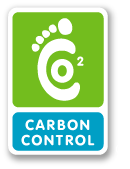 DO YOU CARE
ABOUT
YOUR FUTURE?
Overview
CARBON CONTROL™ is an independent environmental standard identified by a mark of approval that assures consumers and other interested stakeholders that the organisations awarded the mark are successfully managing and continuously reducing their carbon emissions.
CARBON CONTROL™ empowers consumers identify and purchase from organisations engaging in significant and verified actions to protect the environment.
Our Mission
Our mission is to bring consumers and organisations together in a powerful initiative to combat climate change and its destructive effects on our planet.
We aim to contribute significantly to climate change mitigation by supporting organisations in reducing their carbon emissions and by providing assurance to consumers that those organisations awarded the CARBON CONTROL™ mark are working to protect the environment by reducing their emissions by 3% or more annually.
Our Background
The CARBON CONTROL™ standard and mark have been developed by a team of environmental researchers, academics and industry experts arising from the founders' award winning research.
Their research showed a very evident consumer need for assurance of carbon reduction in industries, supported by a greenhouse gas reduction system that organisations can implement to improve their energy consumption and reduce their carbon emissions. CARBON CONTROL™ was created as a standard and a consumer facing mark of approval that identified and rewarded these positive environmental contributions.
After developing the standard and mark to address these needs, CARBON CONTROL™ went on to form key partnerships with the EU Commission for Climate Change and also one of the world's leading tree planting charities WeForest.
CARBON CONTROL™ has been built on strong, credible and verifiable criteria with transparent methodologies based on the most robust internationally recognised standards of the Greenhouse Gas (GHG) Protocol, International Organisation for Standardisation (ISO) and the (UK) Department for Environment, Food and Rural Affairs (DEFRA).
CARBON CONTROL™ is the first truly credible and completely transparent carbon standard and mark audited by independent accredited bodies that provides consumers with a trusted voice, enabling them purchase from organisations that are independently verified as controlling and reducing their emissions.
What CARBON CONTROL™ does for your organisation?
CARBON CONTROL™ supports organisations in monitoring and reducing carbon emissions resulting in lower energy consumption. By awarding your organisation the distinctive CARBON CONTROL™ mark supported by the CARBON CONTROL™ marketing campaigns it makes it clear to consumers that you are actively combating climate change and encourages consumers identify with your business. By providing an independent, transparent and truly credible third party verification of your organisation's 3% or more annual reduction in carbon emissions CARBON CONTROL™ ensures that your organisation will not suffer from greenwash.
CARBON CONTROL™ provides energy managers, or those responsible for energy and/or emissions management, with an innovative toolset to facilitate them in implementing an Energy Management System through which they measure, monitor and minimize their energy usage and their greenhouse gas emissions, especially carbon.
This ensures the adoption of best practice environmental and energy consumption measures, compliance with regulations; and reduced operating costs. Additional benefits include enhanced brand identity and sales potential, improved staff and stakeholder perception, reduced carbon taxes and reward for environmental actions already in train.
The CARBON CONTROL™ certification can add value to ISO 50001 certification and help businesses set up the systems recommended by the ISO 50001 standard. CARBON CONTROL™ assists organisations in making better use of their energy-consuming assets by helping them establish frameworks based on best internationally accepted standards to manage all aspects of energy usage, including procurement.
How does CARBON CONTROL™ contribute to climate change mitigation?
CARBON CONTROL™ contributes significantly to climate change mitigation through leading, encouraging and supporting organisations world-wide in reducing their annual carbon emissions by at least 3% and through rewarding such organisations by meeting the consumers' need to be able to identify and purchase from organisations engaging in significant and verified actions to protect the environment.